---
At Taradel, we have a simple mission:

We make marketing easy.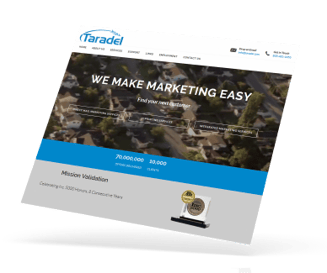 But, that's a very difficult task.
In today's world, marketing is about connecting with people in meaningful ways, across multiple platforms, to drive results. People are connected 24/7, and as an advertiser, you must be too.
It no longer makes business sense to use a single marketing channel to drive ROI.
The "one and done" approach is dead.
As you can imagine, this vast and ever-growing landscape is a beast to organize and unify.
So that got me thinking...
---
For most business owners, the idea of executing an integrated marketing campaign across multiple channels (such as direct mail, social media, search engines, YouTube, landing pages, etc) is too much to manage.
With payroll, inventory, staff, daily operations, and customer service -- it can seem like a miracle when ONE of these components is managed properly.
I know, because I've been there too.
So that got me thinking...
What are the key challenges surrounding the development and execution of a sound integrated marketing strategy?
Here's a few:
The legwork required to leverage big data prospect targeting
The development of ad creative for multi-channel deployment
The coordination of campaign setup and distribution
The challenge of optimizing for physical, desktop, and mobile UX
The build-out of a marketing/sales funnel to convert recipients into leads (landing pages, forms, etc)
The analysis of campaign results and performance data
It goes without saying that, without a small army, these tasks are nearly impossible to manage efficiently.
There has to be a better way, right?

(Turns out, there's not.)
So, we're building one. Taradel's Marketing Commerce Cloud™ (integrated marketing) makes it easy to deploy highly-targeted direct marketing campaigns, across multiple platforms, all from one place.
Neighborhood saturation direct mail
Laser-targeted "big data" direct mail
New Mover marketing
Digital display advertising
Email marketing
Responsive landing pages
The new Taradel makes it easy to deliver a consistent and powerful message to your ideal prospects, across all of these platforms, with a minimal investment of time and resources.
In other words, you can market your products and services, just like the world's most successful companies, without hiring an entire marketing department full of MBAs.
---
We're aiming to disrupt the entire marketing industry the same way we changed the direct mail industry (if you haven't seen it, check out our direct mail campaign builder). We know how to take complex processes and make them simple, efficient, and affordable.
Building the future of marketing

Our mission is to empower every single business owner, entrepreneur, franchisee, and non-profit organization with marketing tools that seemed impossible just a few years ago. In the very near future, anyone will be able to launch a turnkey integrated marketing campaign, with just a few clicks.
We're excited, we're working around the clock, and I can't wait to share more soon.


Jim Fitzgerald

Founder and CEO
Taradel, LLC
---