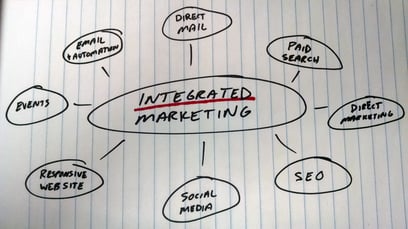 As the CEO of Taradel, I have the unique opportunity to see marketing through a variety of lenses.

With 10,000 small business clients, I focus on building marketing solutions that drive transactional activity, as opposed to brand building (SMBs overwhelmingly value sales over branding).
As the guy responsible for his company's growth objectives, I have to make sure we continue to generate thousands of leads each month while building a national identity.
---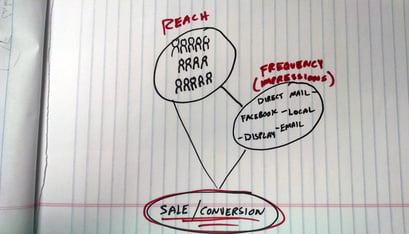 Although the tactics behind these two approaches are quite different, they both require the same things to be successful: Reach and frequency. What is the most efficient way to do this? Develop an integrated marketing campaign.
First some background: The Past

Long before Al Gore invented the internet, integrated marketing thrived. Back then, integrated marketing still required advertising across multiple media formats – but it wasn't quite the same.

A business could establish a strong brand identity and build unanimous trust through newspaper, magazine, television, and radio ads, along with a basic local market presence.

It was pretty easy to unify a message through these captive audiences assuming a company had the marketing budget to do so. It was made even easier given that the average consumer had a much smaller voice (outside of their buying power).

In other words, consumers had fewer ways to consume media, and thus, fewer ways to experience or avoid advertisements within their media consumption habits. But as technology has evolved, so has the concept of integrated marketing.

In the early days of the digital revolution, it started getting harder to convey a single message effectively through a traditional channel. People began logging on and paying less attention to newspapers.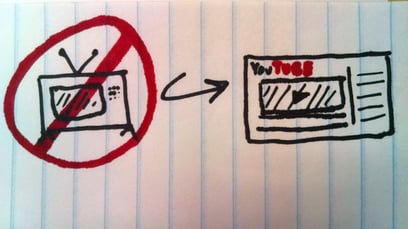 Consumers began watching Youtube videos instead of watching commercials on television. They began clicking instead of calling. They stopped buying physical goods and started downloading digital formats.

Multiple industries were disrupted.

Chief among them: advertising agencies and marketing firms.

Advertisers scrambled to figure out what to do next, and how to monetize these new marketing channels. Early on, advertisers pushed to sell banner ads and low-quality SEO articles to drive traffic to primitive websites – it was simply a numbers game.

But this revolution had sparked the beginning of a major shift among marketers and consumers.

For the first time, advertisers shifted the focus away from products and services. Advertisers began to realize that "fitting in" with individual consumers, and their lifestyle preferences, was the key to acceptance, sales, and long-term success. Suddenly, each audience required a completely different marketing strategy, and database marketing, powered by thousands of data points, became the key to success.

Integrated marketing simply became more integrated into the lives of consumers. Today, businesses and consumers are always connected, 24/7.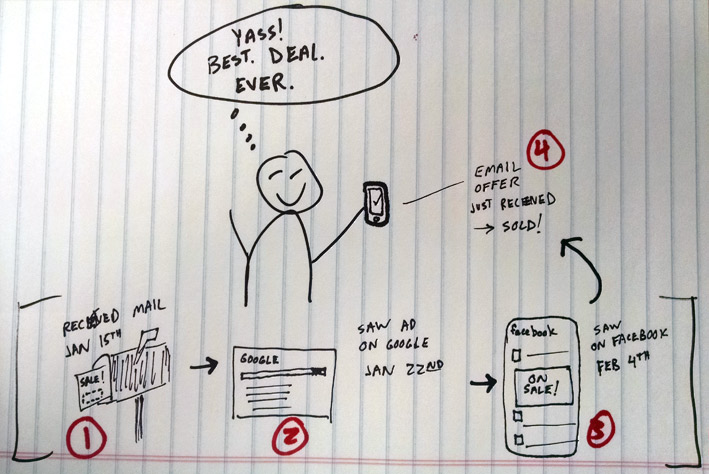 That's integration.

Content became king too. Everyone with a laptop, tablet, or smartphone began producing content. Reviews, articles, videos, podcasts, testimonials, tweets, likes, posts, and more – consumers yield new power and influence and have united into like-minded communities with far-reaching implications for marketers.

In the last twenty years, integrated marketing has leveled the playing field and empowered small business owners. Now, it's not just a big budget that matters. Smaller brands, new technologies, and "disruptive" services can change entire industries overnight. It's truly an amazing time to be a marketer (and a consumer!).

The Future is Now

Today, it takes between seven to twelve impressions of a single message to impact a consumers buying habits or purchasing decisions.

"With virtually every successful business adopting this approach, I think we can stop calling it "integrated" --- and just call it marketing. It's the new standard."


Integrated marketing now focuses on conveying these messages in different parts of the buying cycle to achieve success. In order to do this, integrated product messages are embedded within numerous types of media and directed toward the end customer in a much more tactical and split-tested way.

What we know right now is that integrated marketing is the path to success and ROI. You know the marketing landscape will continue to change, but the need for advertisers to connect with consumers across multiple types of media, in meaningful ways, will not.

With virtually every successful business adopting this approach, I think we can stop calling it "integrated" --- and just call it marketing. It's the new standard.


---
What do you think?

Over the next few months I'll be writing about the following topics:
Responsive website

Social media

Paid search

Deep analytics tracking and reporting

Personalized, automated lead nurturing

Search engine optimization

Content marketing

Email marketing

Paid content promotion

User experience testing

Educational and product support resources

Data-driven; Highly-targeted communications

Persona-based list segmentation

Industry-based list segmentation

Direct mail for customer retention

Reputation management and monitoring

Customer-centric employees and mission statement

Please let me know which ones you want to hear more about. I'll use your feedback to guide my content publishing.


Jim Fitzgerald


Founder and CEO
Taradel, LLC
---